So here we go, the Big News: I HAVE A SPACE FOR MY SHOW!
Yes, yes, it is super duper exciting. And amazingly, it was the first space I looked at, and I just couldn't find anything wrong with it. It is perfect.
Let's first take a look at the location: it's in the Loop.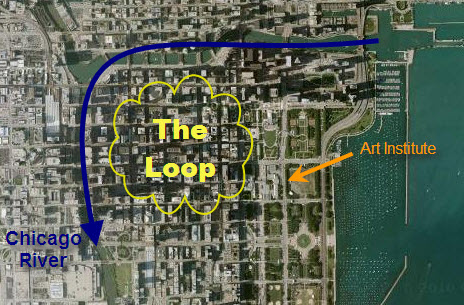 The Loop is basically the heart of Chicago, in case you don't know. All train lines connect from all directions and circle around the center of Chicago. The space is an apartment in a beautiful building inside the Loop, which means easy access for all visitors. It also means it's blocks from The Art Institute of Chicago, where Vincent's paintings are held in this city, which means frequent field trips with my cast during the rehearsal process, and that cross-promotions (which I absolutely plan on organizing) will be as easy as possible. YAY!
So, if you were paying attention, you perhaps noticed I said "an apartment". I am indeed utilizing a living space for this show. Why, you ask? Because I want intimacy, and therefore a smaller space for a smaller audience, and let's face it: it is always wonderful to have your rehearsal space be your performance space. With an apartment, I get the space for months, can schedule rehearsals whenever it's convenient for the people involved, oh and yes, I get to keep all of the box office. No need to split it with the building. And I'm not paying for a sound system or lighting plot that I won't be needing for this show. (It will be all live music and oil lamps)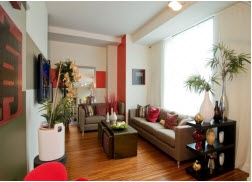 And did I mention this particular apartment building is made up of converted dance studios? Which means the walls are thick, the floors are safe for bare feet, and basically it's perfect for Yellow! Also, since it's full of live/work spaces, the management approved my doing performances there (which not every building would be okay with).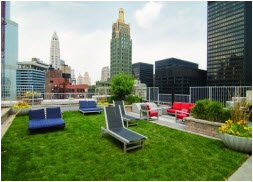 Oh, yeah, and there's this incredible rooftop garden with a jacuzzi, a small pool, a full bar, and I can rent it out for nothing more than a security deposit. Rooftop jacuzzi fundraiser party? Inevitable.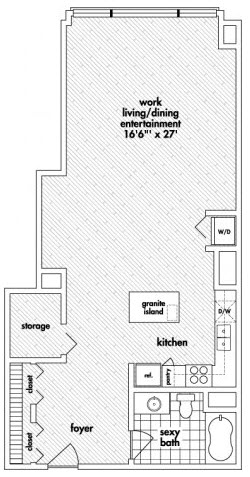 And the floor plan is Open Space. Perfect.
Pinning down rehearsal and performance space for a show is kinda the biggest step, it is one big fat leap and overall just incredibly important. And it also means that there's no denying it now: the show will happen. In fact, I just signed the Leaseholder Change Agreement. Just now. And will fax it in shortly.
eeek!
I've also started conducting interviews with actors over the past week, which has been very exciting and intriguing. I'm doing interviews first because this show is my baby and I need the right people. I need the right hearts and the right minds.
After three years of researching and writing, I am so fucking excited!
See you next week…
PS My business cards look amazing. I wish I could give one to you right now.