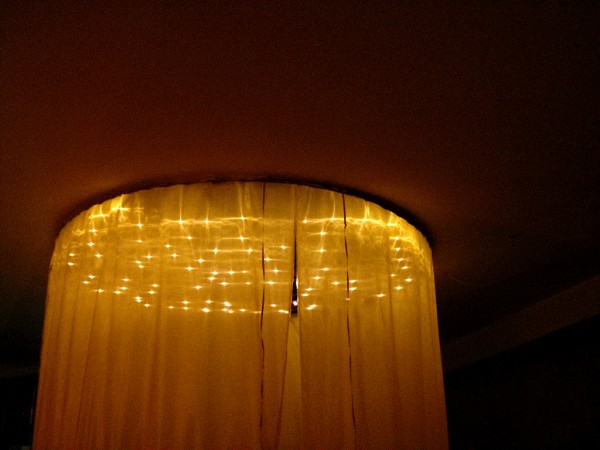 It started with a desire for fabric to fall, and for it to give me yellow silhouettes. It was sparked by ideas of creation and procreation. This set piece had to contain the time I thought maybe I met Vincent, that maybe he was with me. That moment of perfect union of course changed everything – in my play, a new character was created. She was born, she was my imagination, and she parted with known facts and I knew that. But she allowed me to imagine his smile.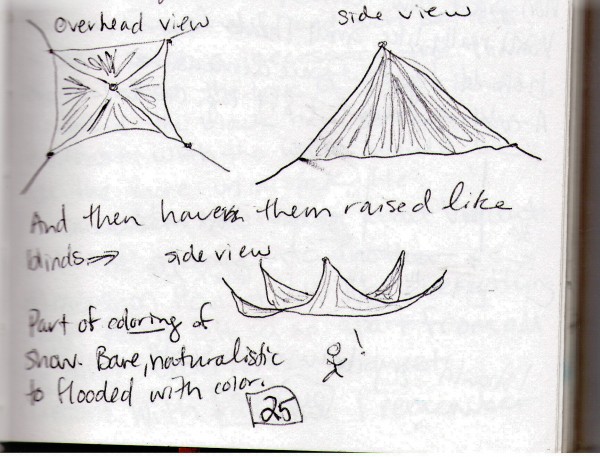 Now staging this (pro)creation is tricky. In my head it necessitated a yellow tent that would allow me to cast silhouettes, that would then transform into a canopy that revealed the true action – that I was not kissing Vincent at all, it was my imaginary him.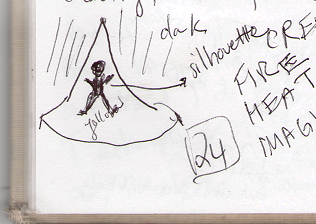 I wanted silhouettes from inside a tent-like structure, then the fabric was to be raised into a canopy position. Inside the tent had to be enough room to dance. That my original plans looked at all like a flower truly did not dawn on me. All I knew was that I wanted the space itself to blossom into impressionism and color as Vincent did about half-way through his career. From colorless to colorful.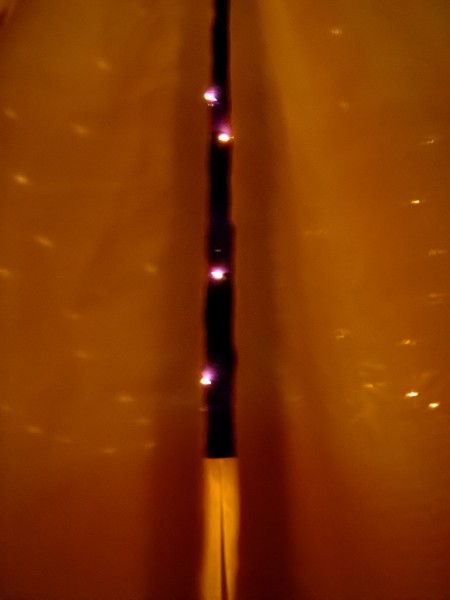 I also wanted christmas lights as stars towards the end of the play. What ended up occurring (design and construction developed by myself as well as Shannon O'Neil, Timothy Caldwell & Amy Buckler) was something truly marvelous that is now a piece of art in my apartment.
The center circle of midnight blue speckled with christmas lights is six feet in diameter, with four long yellow chiffon petals at about ten feet. For most of the play, the lights were not on, and a yellow sunflower layer with smaller petals covered the night stars from view.
For months my boyfriend and I have been plotting how we can pack it up, but we've never desired to pack it up, and now when we finally move out of the space in three weeks, we are going to bring the sunflower to hang it up in our new apartment. It is simply too beautiful and awesome to put in storage.
I never dreamt that I would be left with such an incredible art piece to live with forever, that I might always be able to see stars in my apartment, no matter the weather. In my apartment we often shout — let's turn on the stars! It's awfully fun to say.
I realize now that it is the gift that Vincent gave back to me. I gave him a play, my heart, and my life for a few years… and he gave me stars forever.