SO lots of news.
I am back in the country. Vacation is over.
Vincent's Yellow is CAST.
Let me say that again and allow myself to celebrate one last time before the onslaught of everything else I have to do drowns out the sound.
I HAVE ACTORS! YIPPEEE!
It also looks like I have a co-choreographer, a props master, a media director, a technical director/co-costume designer, and a stage manager along with my lovely co-director. I know, it's craziness. It's good though, because let's face it — as much as I'd like to do everything on this show myself, I need help. I wish I were a giant octopus who could design, direct, act, choreograph, produce, and make re-writes simultaneously (and still have one hand  free to make a living and put food into my mouth), but alas, alack, I am a terrestrial mammal with two arms. But let's face it. It'd be hard to produce Vincent's Yellow under water. And the good news is I've got a lot of  hands on deck now. Which is good cause this is a Big Boat.
I also heard the script aloud for the first time in our first rehearsal last night. (Also a Yippeee moment) So this is the first time in my life that I've sat down and written a script all by myself, and then heard it read aloud by actors. As a writer, it was indeed a bit more difficult than I anticipated (I already want to cut big chunks out of it, and will start doing so tonight), but it was also really awesome to discover new things about my story. Like, for instance — it's got some laughs! I think my snarky sense of humor couldn't help but pop in, but I was happy to hear some laughter from my cast.
Last thing I'm gonna tell you (later this week or maybe next week I'll post the photos of my lovely actors) is that I bought a few things in Ecuador.
The first thing I was really looking for was just a huge amount of yellow fabric. I need it for…. you know. Well I can't tell you! Come see the show if you want to know. It was really cheap in Ecuador so I got tons and tons.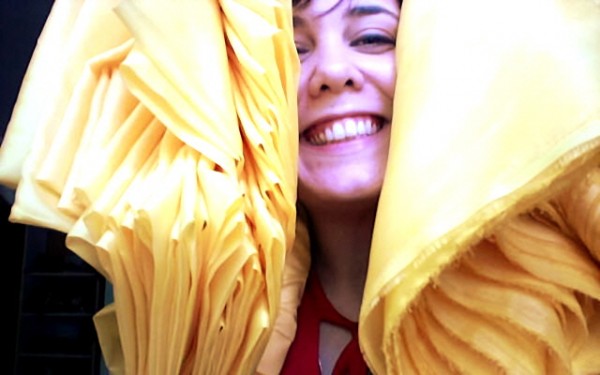 I'm sure you understand that there was no other way to show it to you other than to put it on top of my head.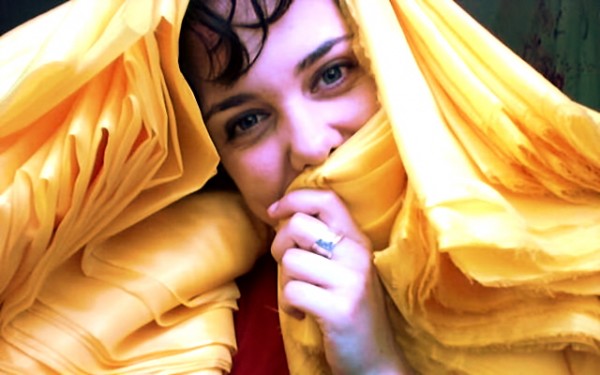 I got 35 meters. That's about 120 feet. It's very light-weight, translucent, and falls like a feather. It's peeeerrrrrrty.
And, then there was one other thing I searched for…
Self-Portrait, 1887.
And found…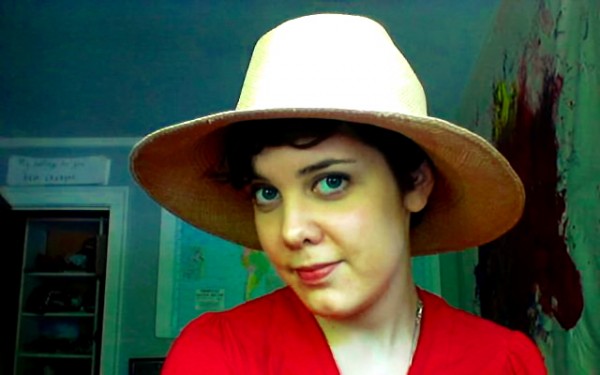 teehee. I am pretty pleased with myself.
See you next week, fellow lovers!