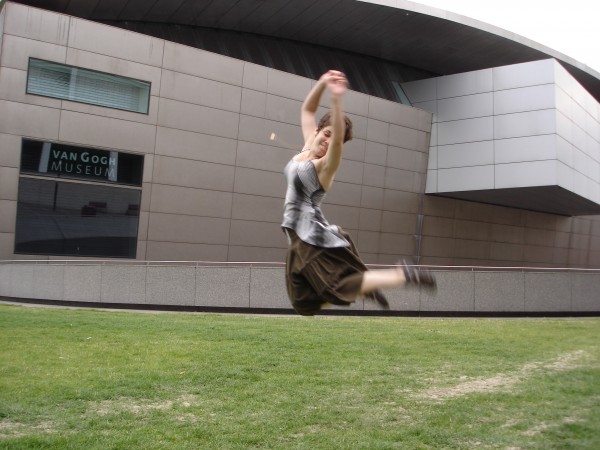 (photo by Tim Caldwell)
Spent seven hours at the museum today… yes, seven. I suppose one of them was spent eating in their cafe — it's so nice that they have reasonable prices there, I will probably eat there again.
So yes, four hours went by in a flash; really, I'm not kidding. It took four hours for me to have one walk through from beginning to end with the audio tour and not rushing myself. It was about sixty, seventy paintings perhaps? This is not so bad considering I spent two hours at the Boston Museum of Fine Arts looking at four paintings.
When I go to the museums, I like to let the paintings wash over me, get enveloped in them for a bit, and then I start to write, in the space. Usually when I'm writing, I figure things out, whether it be about Vincent, about me, or about life.
For instance, while in the asylum at Saint-Remy, Vincent was not allowed to go outside for a bit for the sake of his health. Thus, in order to keep painting, he would make "translations" of other paintings, usually by his favorite painter, Jean-Francoise Millet. He worked from black and white etchings, transforming them with his color.
This I already knew, those translations were one of the first things that made me admire him so (as you can look at the original, then his version, and know that the only thing added was Vincent). But I was reminded today that in one painting he copied from Rembrant – of Lazarus – he painted Lazarus to resemble himself, and then replaced the figure of Christ with the sun.
The creative, personal, and spiritual implications of these decisions is huge. Especially since, from my point of view, it makes sense to replace Jesus with the sun.
Anyway, just a taste of my thoughts. Tomorrow I'll spend the day in the museum library, where they have a copy of all the books ever published about him and every book he ever mentioned in letters. Major research time. I'll return to the museum on the weekend. It's a treasure chest; full of jewels, full of people come to see and understand Beauty.